Window decals are easy branding tools for you to purchase and install on your own to make your storefront appear more professional and legitimate. Most store owners apply vinyl decals for storefront glass on their own because it is manageable enough to DIY. However, you do need to take the necessary steps to make sure that your vinyl window decals are applied flawlessly.
Before we get into the hands-on instructions though, it's important to purchase a high-quality decal that's made of the right material. For short seasonal promotions and signage, it might be best to purchase interior window clings that won't be difficult to remove when needed. If you're installing more permanent signage, it's best to invest in an exterior decal. It's important that the material be rated for outdoor use and that it's a high-quality vinyl product. Once you have your sign or wrap printed out it's time to get busy installing it.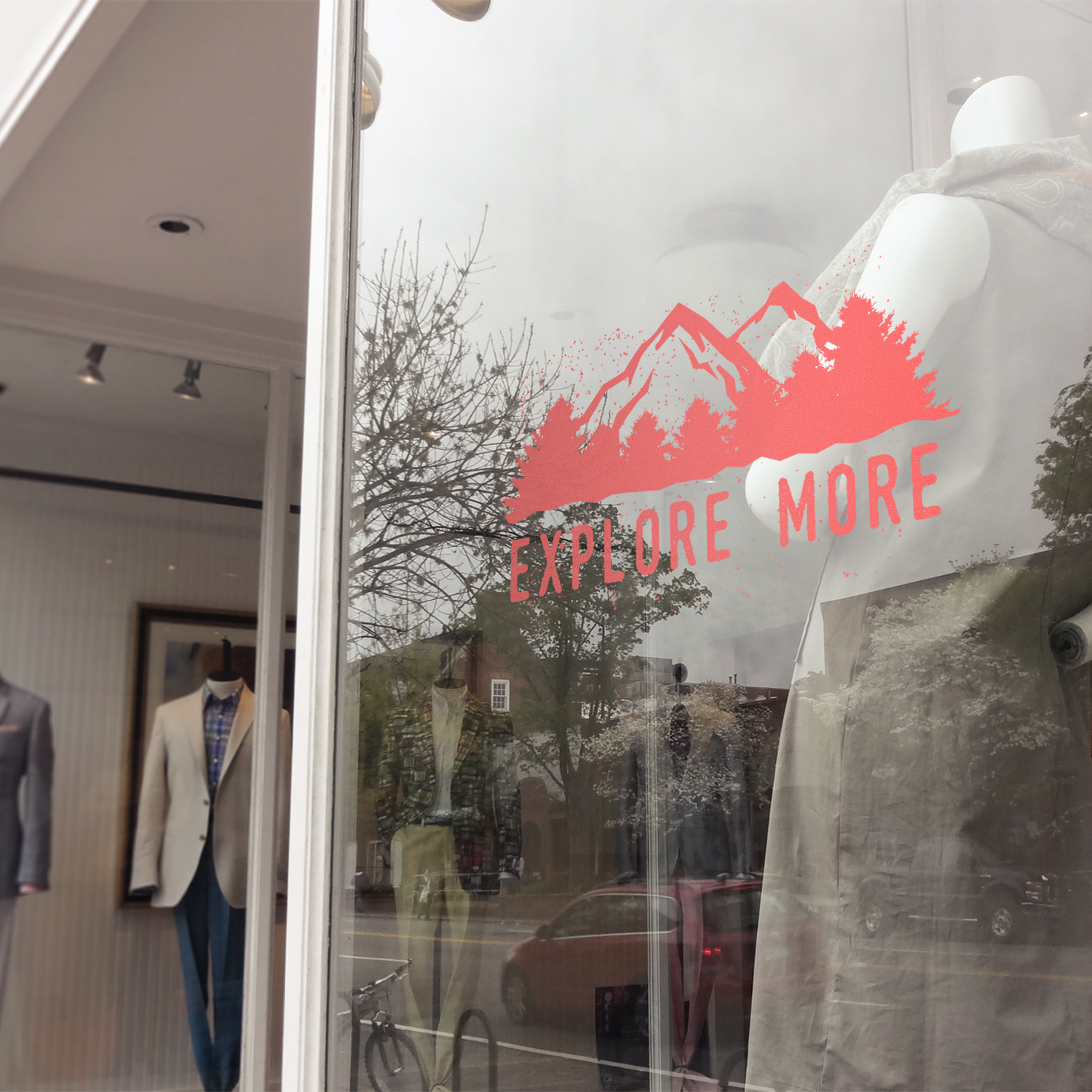 Clean the surface
Whenever you are applying anything on your windows, especially if they are adhesives, you need to make sure that that surface is clean. Any impurities on your window can completely ruin the finished product. Dirt and oil on the surface can make your window decals bubble or not stick well enough for a long period. To clean, simply use a commercial window cleaning solution and squeegee your way to perfection. You'll want to wait until the window surface is completely dry before proceeding with the next steps. This should prevent any cleaner residue from breaking up your adhesive, since it may contain alcohol or ammonia. Water alone won't remove the adhesive though, and it can help you position your stickers perfectly once your window is clean and spotless.
Use application fluid
The best and easiest way to apply vinyl decals for storefront glass is through the wet method. This way, if you make a mistake with the positioning, it's easier to adjust the decal. Simply spray a generous amount of application fluid on your window before positioning your window decals. To make this application fluid, you just need a drop or two of dish soap on a 750ml sprayer. Mix this with room temperature water. Be careful not to add too much soap. Two drops in 1 liter of water are more than enough.
Position and Tape
No matter how steady your hands are, there will always be a possibility that you will accidentally apply the window decals in the wrong position. To be sure that you are applying it in the right place, use tape. With the liner still on the sticker, tack the decals in the right position. You can use magic tape if you do not want to leave any adhesive residue on the frame of your windows. Before doing this, though, make sure that your surface area is free from dust and it has been applied generously with the application fluid.
Remove the Liner
Once you have carefully positioned your sticker in the desired location, you can proceed with the application process. Begin by slowly and gently removing the liner, allowing the vinyl window decals to naturally adhere to the moist surface. In the event that you notice any small bubbles, there's no need to panic – you can easily squeegee them out. However, it is crucial to perform this application process slowly and meticulously, ensuring that you minimize the presence of air pockets on your vinyl decals for storefront glass. Taking these extra measures will result in a flawless and professional-looking finish for your decals.
Apply from the Top Going Down
When comes to applying the sticker, it is important to follow the correct method for optimal results. Begin from the top and delicately remove the lining, making sure to move downwards in a smooth and level manner. As you proceed, gently press the sticker onto the surface, ensuring not to exert excessive pressure at this stage. By carefully adhering to these steps, you can achieve a perfect application while safeguarding the integrity of the sticker.
Squeegee outward
Once the lining is completely removed, you can start using the squeegee to carefully remove any air pockets that may have formed under the sticker. It's important to work from the center of the sticker and move outwards in a smooth motion. By doing so, you'll ensure that the window decals remain securely in place without any risk of being dragged or dislodged. Remember to exercise caution and apply gentle pressure to avoid tearing the decals during this process.
Remove the Tape
Once you're satisfied with the successful removal of any bubbles, you can proceed to carefully remove the tapes and, if necessary, gently polish the frame for a flawless finish. In case you're working on applying large vinyl decals onto commercial storefront glass, it is advisable to seek the assistance of another person. This collaborative effort ensures that the sticker is expertly applied with an even and balanced placement, creating an impressive visual impact.